This is the second of my review of the 2011 McLaren Vale Scarce Earth Shiraz Project wines.  A summary of the project and the tasting is outlined in Part 1.
Below is the McLaren Vale Region Geology Map with the different districts shown.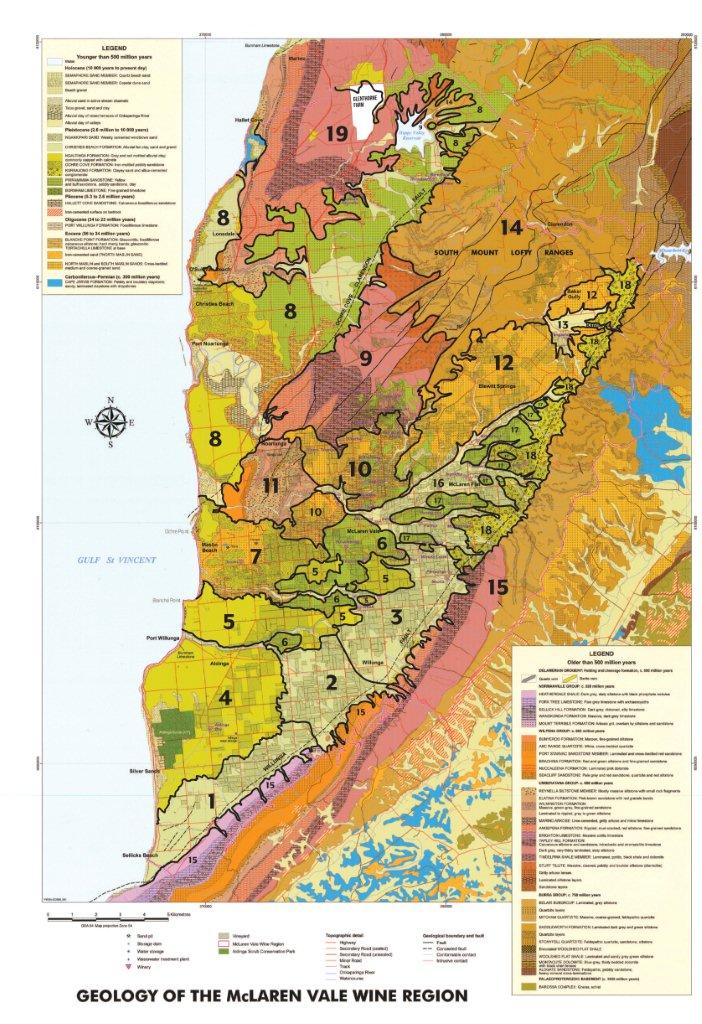 District 5 or Whites Valley
From the coast, undulating coastal land forms the main ridge with heavy black cracking clay soil but with scattered calcrete outcrop and float.  Vineyards are generally early ripening similar to #1 and #2.
Hugh Hamilton Black Blood 1 ($70)
Made from fruit off the block next to the cellar door – same as last year.  Clean fruit with violets and white pepper on the nose.  Flavours of blackberry, cloves and licorice that on the whole was better balanced between fruit and oak when compared to the same wine last year.  I say this as last year I thought the wine needed a touch more oak – not so this time.
Shingleback Unedited Shiraz ($80)
The aromas were strong with dried herbs and less blackberry fruit.  On the palate there seemed to be some fruit sweetness but more on the mulberry side (compared to blackberry).  There was the dried herb hit of oregano and rosemary with the distinct finish of licorice.
District 5 & 6
District 6 or Gloucester.  Soil are undulating rises on sandy sediments. Heavy black cracking clay soil with lesser silty
loam over red clay and over brown clay.
Inkwell Shiraz ($40)
Cherry conserve edge to the aromas with some fresh herbs with the unusual finish of dustiness with red licorice notes.  Lots going on here – even before the wine enters ones mouth.  once the wines hit my mouth I got an interesting mix of red and blue fruits with, this time, dried herbs.  The wine lingered and interestingly I thought the tannins were not too strong, however they certainly were drying to the teeth.  I have been lucky to have seen this in barrels and the discrete individual parcels of wine – this is definitely a case of the blend being better than any of the individual components.
District 7 or Maslin Beach / Bayliss
Soils – coastal land with undulating rises to the east on sand, not heavy clay. Heavy black cracking clay soil with lesser silty loam over red clay and over brown clay.  Moderate to steep slopes along Pedler Creek with sandy loam over red clay, sandy loam over brown clay and black-brown cracking clay.
Kangarilla Road Scarce Earth Project Shiraz ($60)
As per last year this wine from a Maslins Beach vineyard (same vineyard and same grower) produces something different.  On the nose I got blackberry conserve with dried herbs (oregano and lavender) with an inherent minerality.  The blackberry conserve component is even more fitting for the flavours with that same minerality and slightly chewy tannins.
District 9 or Onkaparinga Hills
Soil: Loam over red clay on limey rock and shallow calcareous loam along the frontal hills from Pedler Creek in south to Morphett Vale in north.  Generally thin patchy soil with gravel and extensive outcrop of Neoproterozoic rocks on the moderate to steep slopes flanking Onkaparinga River. Loam over red or brown clay on bedrock and shallow stony loam.
Chapel Hill Winery The Chosen Road Block Shiraz ($75)
A cherry orientated aroma hints at an early picking regime for this vineyard (next to the Chapel Hill facility).  This wine shows red fruits and its class is defined by the length this wine stays on the palate.  The tannins were a little course but as expected this wine is made for the long haul and really needs some time to even get close to it's best.
Chapel Hill Winery The Chosen House Block Shiraz ($75)
As expected this wine is high class and so different that the Road Block that is so close but so far.  I got lots of peat on this one and I expected this wine may have had some Blewitt Springs action (before I found out it was definitely from the House Block).  Big red and black fruits, subtle spice and dried herbs with a drying tannin finish.  The tannins were more than I expected from a Scare Earth Project wine however the wine is structured for success and will be thriving for at least the next 10 years.
Coriole Galaxicidia Single Block ($50)
Made from grapes grown on the Coriole vineyards (15 years old) near the cellar door and winery complex.  This wine is all about the vibrant red fruits with the licorice finish that one gets often with McLaren Vale Shiraz.  More of a medium bodied wine and thus different than the others from this district.