The McLaren Vale Scarce Earth Project has just released the third vintage of single vineyard Shiraz.  I have reviewed the project before and an outline of what the project is about and how a winery is judged to be Scarce Earth worthy can be found here.
The 2011 vintage was challenging with wet and cool conditions during the key ripening period.  There was some average wine made during this vintage but as with all years this generalisation is dangerous.   Good management and care in the vineyard and the winery can produce excellent wine even when conditions are "challenging".   I was looking forward to this tasting to see how the different wineries worked their grapes.
This year I want to concentrate on the geology differences and how the McLaren Vale region has been split up into a number of different areas based not on location but on soil and weather types.  The geological map is shown below and I will reference the various districts in the wine reviews.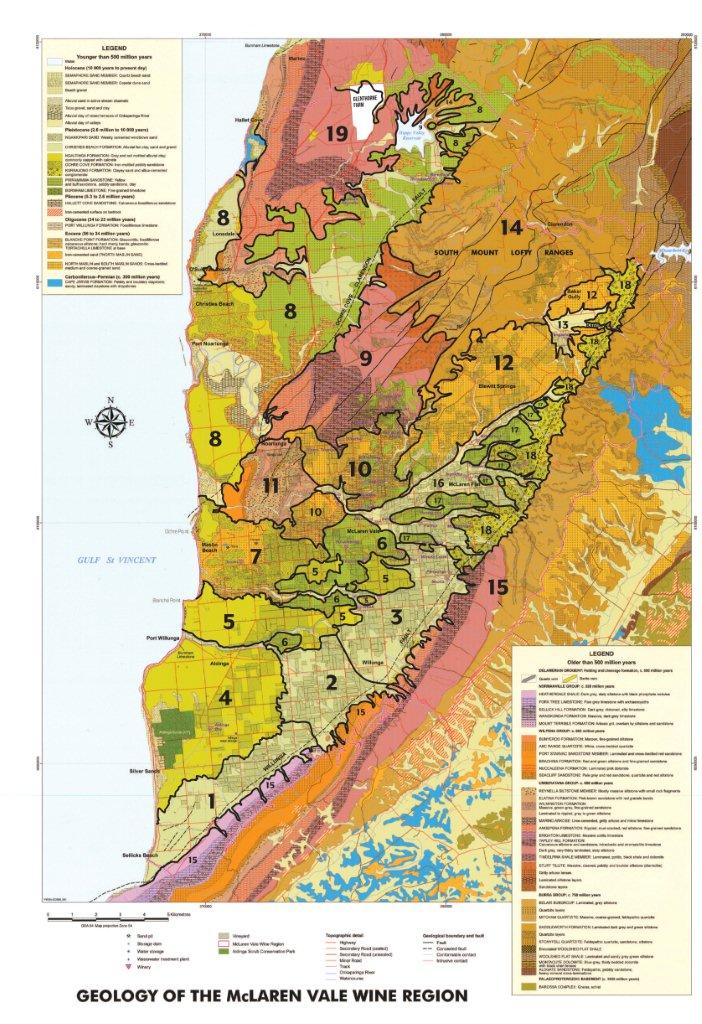 District 1 also known as the Sellicks Foothills
The soil is categorized as gently sloping fans and level flats formed on gravelly clay out wash sediments. Silty loam over red clay, silty loam over brown clay and in the west, black cracking clay.
Cradle of Hills Row 23 Shiraz ($45)
Made from the same vineyard as last year and has lovely fresh fruits and florals with white pepper aromas.  The flavours are a little green (maybe some of the grape seeds were a little green) which is not unexpected from the wet vintage conditions.  Clean fruit and acid with minimal tannins.  Some licorice pokes it head through on the back of the palate.
District 2 also known as Delabole.
The soils are similar to District 1 but is further from the ocean and thus has less coastal effects.
Shirvington Wines The Redwin Shiraz ($45)
From a Willunga vineyard close to the Willunga escarpment and I suspect in black clay soils.  Why do I say this?  Well the wine is all about strength.  Strong fruit, chocolate and violets with hints of peat (wich I was not expecting).  The strength continues in the mouth with the peat and violets continuing with the addition of a chocolate finish and the lick of french oak cedar.
District 3 also known as Strout.
The soil is categorized as gently sloping fans and level flats formed on gravelly outwash sediments in southern 4.5km. Silty loam over red clay, silty loam over brown clay and in the west, black cracking clay. Gentle slopes formed on heavy clay out wash sediments in northern 1.5km. Sandy loam over poorly-structured brown clay.  The impact from the ocean is less than in Districts 1 & 2.
Battle of Bosworth Chanticleer Single Vineyard Shiraz ($45)
Summed up with bright fruits, florals and pepper that is long lasting in the mouth.  Probably a little disjointed at this time and needs time in the bottle to be a little beauty.
Battle of Bosworth Braden's Single Vineyard Shiraz ($45)
From a Bay of Biscay clay soil vineyard and based on this I was expecting strength.  Compared to the other BoB offering that is what was on offer.  The fruit was the hero here with a fine licorice finish.
Halifax Per Se Block ($65)
I have been a bog fan of all the offerings from Halifax and just love the philosophy of Peter (wine maker) who wants his wines to be expressions of the vineyard and the fruit is the key.  Minimal oak influences are seen here.  This wine just continues this focus with aromas of  red and blue fruit (not expecting this for a Shiraz and was definitely a point of difference to the other Scarce Earth wines) with perfume florals.  The flavours go through layers of the plum fruit, licorice, florals and a touch a cinnamon with just a slight lick of oak tannins.  Yes I really like this wine.
Coriole Willunga Old Vine Shiraz ($50)
From a 95 year old vineyard and dark fruit character abounds.  Deep black fruits with a white pepper side dish.  The oak was a little more obvious than the other wines so far but not over done.